About Assembly Tool Specialists, Inc.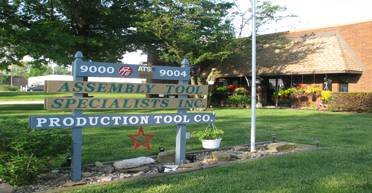 Even though we have assumed the name "ASSEMBLY TOOL SPECIALISTS, INC." we continue the Production Tool Company history and association with all types of assembly industries by marketing our "NO-MAR" gap and flushness gages as the PTCo. brand and logo. The special assembly tools and accessories will bear the ATS name and logo and will be applied to all future new tools and products.
This web site will show you the tools and solutions that you may not have thought of but are indicative of the capabilities and professional engineering expertise of our design and manufacturing team. Each of these solutions and hundreds more in our repertoire have improved our customers' manufacturing process and increased their net profit while also providing a safer work environment for their associates. We ask for the opportunity to provide our services and products to you.
In addition to our many specialty tools and mutilation prevention solutions we have qualified as a woman owned enterprise so we may assist our industry partners in fulfilling their goals within their minority purchasing policies.
We are not a company managed by policies. We are a company managed by principles. A few of them are:
Our customer is our paycheck.

Quality performance and quality service starts with a positive attitude.

The secret to successful customer service is to start with YES.

Customer satisfaction is not our goal. Customer loyalty is our goal.
Name Change Newsletter




Click on the image above to view this newsletter.



Ron,
"Just wanted to thank you once more for your time and for saving me on such a quick turn-around. It was great hearing how your current endeavors started."
- Loyal Customer